A grave Ministry of Defense bulletin flashed to Russian Naval and Marine Forces approaching their Mediterranean base in the Syrian port of Tartus is warning that Iran's successful test-firingof their fourth generation indigenously-made Fateh 110 precision missile earlier today confirms that this Middle Eastern nation on the brink of total war with the West has achieved the ability to detonate at high altitude, and with great range, a much feared EPFCG weapon.
EPFCG stands for "explosively pumped flux compression generator" which is a device used to generate a high-power electromagnetic pulse by compressing magnetic flux using high explosive.
An EPFCG weapon can be used only once as a pulsed power supply since the device is physically destroyed during operation. Most feared about EPFCG weapons is that could be easily carried by a person and can produce pulses in the millions of amperes and tens of terawatts, exceeding the power of a lightning strike by orders of magnitude.
Explosively pumped flux compression generators are popular as power sources for electronic warfare devices known as transient electromagnetic devices that generate an electromagnetic pulse without the costs and side effects of a nuclear weapon. They also can be used to accelerate objects to extreme velocities, and compress objects to very high pressures and densities; this gives them a role as a physics research tool.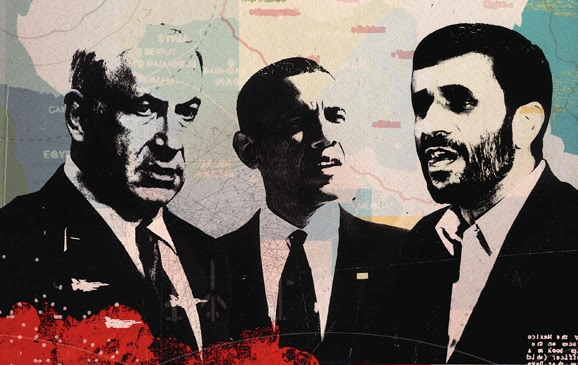 The first work on these generators was conducted by the VNIIEF center for nuclear research in the closed Soviet city of Sarov at the beginning of the 1950's followed by Los Alamos National Laboratoryin the United States.
EPFCG weapons require a starting current pulse to operate that is supplied by capacitors which, since 1998, Iran has become one of the leading nations in the world in developing as evidenced by recent reports in the European Journal of Scientific Research and the Canadian Journal on Electrical and Electronics Engineering.
Virtually unknown to Western peoples about Iran are that its sophisticated military resources, including Intercontinental ballistic and cruise missiles, optically guided smart bombs, unmanned aircraft, state of art torpedoes and magnetic mines, etc., make it a nearly impregnable nation to attack without the use of multiple nuclear weapons.
Equally unknown to the Western peoples, especially the Americans, was Iran's supreme leader Ayatollah Ali Khamenei telling Iranian military chiefs to expect "war within weeks", at a recent war council meeting.
During this past week, also, US Republican Presidential candidate Mitt Romney gave the green light to Israel to attack Iran, a power whose engagement in war would involve the United States and noted by the influential Huffington Post which stated: "Nothing like this has ever happened before in American politics."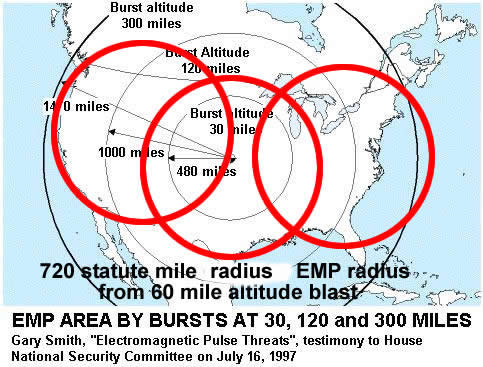 Opposing Romney was former US Republican Presidential candidate Ron Paul who in addressing the US Congress this past Wednesday accused Washingtonof "marching into a determination to have another war." "When you put on sanctions on a country, it's an act of war and that's what this is all about. I think this bill would be better named Obsession with Iran Act 2012," Paul said, referring to a bill, which has been approved by the House of Representatives and the Senate, targeting Iran's energy sector.
Seeking to raise the American publics awareness of an Iranian EMP attack their nation a number of top US officials and experts, including former CIA Director R. James Woolsey, conducted a forum yesterday called "The Electronic Armageddon" where they predicted that within 12 to 18 months following such an attack 90% of Americans would be dead.
The former Iranian Revolutionary Guard member who worked undercover as a CIA agent for several years in the 1980s and 1990s, Reza Kahlili, further warned that Iran already has been practicing with missile launches from ships that simply put the payload straight up and high in the sky. "That is the signature … of training for an EMP launch." Kahlili confirmed it would take only 60 seconds for such a warhead to be launched, and the result would "destabilize the infrastructure of America within hours."
The American fears that Iran would launch an EMP attack them was further raised this past week Iran's Navy Commander Rear Admiral Habibollah Sayyari stated that Iranian naval forces will extend their presence to the Atlantic Oceanin the near future putting them upon the very doorstep of the United States.
As noted by Israel's national news service Arutz Sheva, however, the most likely war scenariowould be an Iranian EMP detonation over the Saudi Peninsula which would not only blind all of the US military spy satellites, but would likely burn out all the US CENTCOM Saudi Theater communications back to the Pentagon. The White House would not even know Iran's EMP attack had begun, before it was all over.
In short, with an EMP nuclear device-armed Iran, practically overnight and "on any given Sunday," the world could wake up with Iran in total and irreversible control over 56% of the world's oil reserves. With Chinese-total UN backing, the Saudi Peninsula will be called Khomeini, the 32nd Province of Iran.
To the freeing of millions of their fellow Shiites living under the brutal Western backed regimes on Saudi Arabia and Bahrain, and assisting their Shiite allies in Syria, the war Iran has been planning for (for centuries) is against their Sunni foes, which curiously has found the United States as their most crucial ally who without any drop of Iranian blood being spilled defeated their two worst enemies Iraq and Afghanistan.
To how this "New Great Game" will play out is to no ones knowing…other than to note that if the Western peoples, especially those in the United States, were given the truth that this war is about the Shiite branch of Islam warring against the Sunni branch to free those oppressed and living under the brutal dark ages rule of religious tyrants who subjugate women, they may decide their political leaders are on the very wrong side of history.